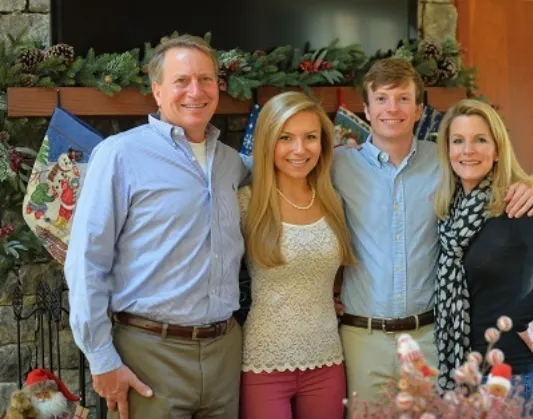 Dr. Harry R. "Joe" Mack, DDS, MD, with his wife Stephanie. Their son Dr. Russell Mack, a general dentist, practices in Franklin, TN with Dr. Candace Settles. Their daughter Caroline, a Physician Assistant, practices Aesthetic Medicine at Nashville Oral Surgery.
Harry R. (Joe) Mack, DDS, MD
Board Certified Oral And Maxillofacial Surgeon
Dr. Harry Joe Mack has been in private practice in Nashville, Tennessee, since 1988. He is delighted to be caring for a second generation of Nashvillians. His practice philosophy is embodied by the Golden Rule.
Dr. Mack is a board certified oral and maxillofacial surgeon. He is a Diplomate of the American Board of Oral and Maxillofacial Surgery, a Fellow of the American College of Dentists, a Diplomate of the National Board of Dental Anesthesiology, a Fellow of the American Association of Oral and Maxillofacial Surgeons, and a member of the Southeastern Society of Oral and Maxillofacial Surgeons. He has hospital privileges at Saint Thomas Hospital in Nashville, Tennessee, and Williamson County Medical Center in Franklin, Tennessee.
Dr. Mack majored in mechanical engineering at The University of Michigan, College of Engineering, and he was granted early entrance into the University of Michigan School Of Dentistry, where he graduated in the top four percent of his class. After graduating, he completed a year of general dentistry practice residency and subsequently completed his oral and maxillofacial surgery training at the University of Alabama Hospital and his M.D. degree at the University of Alabama School of Medicine. He completed a year each of oral surgery internship, general surgery internship, and oral surgery residency, serving as chief resident during his final year.
Dr. Mack was recognized by the Tennessee Dental Association for his many years of service to the state and local dental community in 2010 when he was awarded The Tennessee Dental Association Fellowship Award for Outstanding Contributions to the Profession of Dentistry. Joe has also served in every elected office in the Nashville Dental Society, including President, Member of the Board of Directors, the Budget and Finance committee, and the Nominating Committee. Dr. Mack has been an active member and officer of local study clubs since 1988.
A former Sunday school teacher and Cub Scout leader, Joe and his wife, Stephanie, live in Nashville, and are the parents of two grown children, Russell and Caroline. Dr. Mack is well-known for his friendly, light-hearted chair-side manner, and he is proud to call himself an honorary southerner
EDUCATION
09/1975-06/1978
University of Michigan College of Engineering Pi Tau Sigma, Honorary Mechanical Engineering Fraternity
08/1978-06/1982
University of Michigan School of Dentistry D.D.S. Omicron Kappa Upsilon, The National Dental Honor Society
08/1986-06/1988
University of Alabama School of Medicine M.D. Graduated Cum Laude
08/1982-06/1983
General Dental Practice Resident Youngstown Hospital Association Youngstown, Ohio
06/1983-06/1986
University of Alabama Hospital, Birmingham, AL Oral Surgery Internship General Surgery Internship Oral Surgery Resident
HOSPITAL APPOINTMENTS
7/2002-present
St. Thomas Hospital, Nashville, TN
7/1988-present
Williamson Co. Medical Center, Franklin, TN
7/1988-2004
Southern Hills Medical Center, Nashville, TN
PROFESSIONAL ORGANIZATIONS
Nashville Dental Society
2009-2010
President
2008-2009
President-Elect
2007-2008
Secretary
2006-2007
Treasurer
2006-2010
Board of Trustees
2006-2008
Budget and Finance Committee
2001-2004
Nominating Committee
Tennessee Dental Association
2001-2009
Delegate
1999-2000
Alternate Delegate
American Dental Association
10/1999-present
Member
American Medical Association
1987-2009
Member
Nashville Academy of Medicine
1988-2004
Member
Southeastern Society of Oral and Maxillofacial Surgeons
2012 - present
Member
American College of Dentists
9/2012-present
Fellow
American Association of Oral and Maxillofacial Surgeons
9/1989-present
Fellow
Tennessee Society of Oral and Maxillofacial Surgeons
3/1993-1/1997
Outpatient & Quality Care Review Committee, Middle Tennessee Oral Surgery Office Anesthesia Inspector
Doral Dental Peer Review
3/2009-9/2010
Member
BOARDS and CERTIFICATIONS
1982
Northeast Regional Board Examination
1988
Diplomate, National Board of Medical Examiners
1988
Tennessee Board Examination
1989
Southern Regional Board Examination
1991
Diplomate, American Board of Oral and Maxillofacial Surgery
1991
Anesthesia Certification Tennessee
2004
Diplomate, National Dental Board of Anesthesiology
1988-present
Advanced Cardiac Life Support
AWARDS and HONORS
1977
Pi Tau Sigma, University of Michigan Mechanical Engineering Honorary Fraternity
1982
Omicron Kappa Upsilon, University of Michigan School of Dentistry
1982
Pathology Award, University of Michigan School of Dentistry
1988
Graduated Cum Laude, University of Alabama School of Medicine
2010
Tennessee Dental Association Fellowship Award for Outstanding Contributions to the Profession of Dentistry
2012
Fellow, American College of Dentists